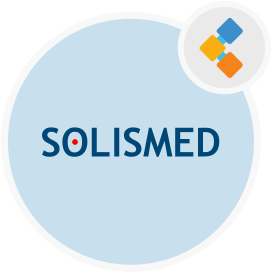 Solismed  Free Healthcare Software
Free Outpatient And Inpatient Hospital Management System
Solismed is an open source patient management solution with complete data security, customizations, drug stock control, and medical billing services.
Overview
Solismed is an open source healthcare software for outpatient and inpatient clinics. This clinic information management system provides many features to save time and boost productivity. Further, it offers a user-friendly user interface where users can navigate easily. Similarly, users can open multiple tabs at one time with different task panes. Moreover, this medical record management system offers prominent features include secured medical records, e-prescribing, patient encounter management, patient portal, inventory control, billing, and appointment scheduling.
After that, this hospital information management system provides the facility to have detailed team collaboration on patients reports. So, this open source clinic system comes up with self hosting capabilities. Solismed also provides provision for lab integration and appointment reminders. In addition, the UI of this free tool is intelligent enough that it lets users configure practice's needs.
Above all, this medical record management system is completely written in PHP and its documentation is available regarding development and deployment. Further, it provides the utmost reliability and data security for patient's healthcare.