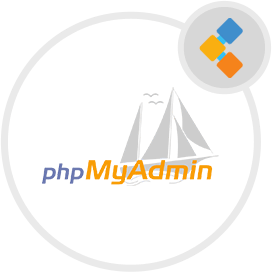 phpMyAdmin Database Management Tool
Open Source Database Management Tool for MySQL & MariaDB
phpMyAdmin is an open source DBMS tool that allows users to interact and manage various databases including MySQL and MariaDB via web interface.
Overview
phpMyAdmin is a free and Open Source Database Management Tool for MySQL and MariaDB written in PHP. It supports multiple functions on MySQL and MariaDB. Developers can manage information, tables, columns, relationships, references, users and permissions, etc. via the interface. Also they can use phpMyAdmin to perform most administration tasks, including creating a database, running queries, and adding user accounts.
Alongside user interface, developers can directly execute any SQL statement from this free database management tool. phpMyAdmin also comes as a built-in component with XAMPP and WAMPP web servers. Right now phpMyAdmin is one of the most widely used and popular DBMS software tool in the world.